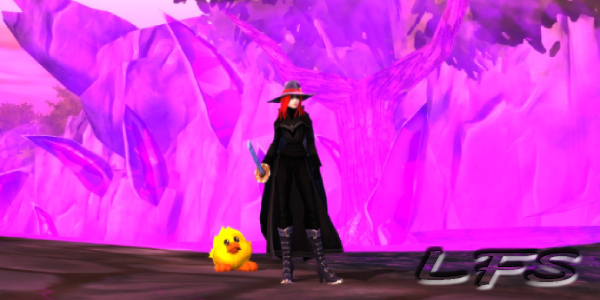 Who said Beware the Ides of March? OK, so we know who, but don't listen to him! The Ides of March will hereafter be a blessed day: It shall be known as DuckyDucky day! On March 15th, a new DuckyDucky AdventureQuest 3D pet owner will be selected. And everyone has a chance to win! (Unless you already have a DuckyDucky pet, that is.)
Thanks to feedback, we've devised a better giveaway. It is in testing so if we need to make revisions for next time, we can! This time we have a special point-driven raffle system in place. Raffle tickets will be purchased using the brand-new channel currency for MJTV called shinies. These are earned by watching and participating in MJTV streams on https://www.twitch.tv/mjguthrie. Shinies — and hours watched for ranking and regular status — will start accruing starting during the MJTV stream on 1 March 2019. (Note: Those bonus points awarded to viewers during the 26 February 2019 stream will be added to recipients Twitch accounts.) SO how do you get them? Some are automatic, and some require a bit of luck.
How to earn shinies (points):
By watching: 1 shiny per every 15 minutes just for watching live (+1 for sub, +1 for active)
By winning raffles/Moglin Mayhem contests: 5 shinies per win (+5 for subscribers)
By supporting MJTV: 10 shinies for sub, 1 shiny per 50 bits cheered, 2 shinies per $1 tip
Shinies raffles will be done randomly during streams. Extra raffles may happen when cheers or tips occur or when hitting certain viewer counts.  For instance, at 50 viewers there will be two (2) bonus raffles. At 75 viewers, there will be three (3)!
All shinies accumulated from this time until the final raffle drawing during the AQ3D stream on 15 March 2019 can be used for the drawing. During that final stream the raffle will close and the winner will be drawn.
How to enter final raffle drawing:
Each raffle ticket will cost 10 shinies. You can purchase as many tickets as you have shinies for. Please note that shinies are spent/removed whether or not you win! The raffle itself will be open on the MJTV channel for 24 hours before the drawing itself giving everyone in every time zone the opportunity to get their tickets and enter. You need not be present to win, but you will have to whisper me from your Twitch account before any prize can be awarded.
Important notes:
Remember, the DuckyDucky is a loyalty reward! He is my special mascot for LFS and MJTV. As discussed previously, there will be a minimum level of entry to participate in the final raffle. You will have to have a combined total of two (2) hours of viewing time during those two weeks to enter. Honestly, if you aren't watching you won't be accruing many points, but this will also prevent someone with great RNG from swooping in for a total of 10 minutes and randomly winning.
Please do not enter with alt Twitch accounts. As much as increased viewers might seem nice, it is very important to me that the drawing be as fair as I can possibly make it. If you are discovered to be using multiple accounts to enter the raffle, you will be disqualified. This can include removal of the pet if already delivered to be awarded to another. Please, let's be respectful of this rule and only purchase your raffle tickets using one single Twitch account.
If you are a viewer and aren't interested in the DuckyDucky pet, don't worry! You keep your shinies; there will be other giveaways in the future you can elect to spend your shinies on!